SOCIAL STRIFE

PROUDLY PRESENTS THEIR SONGCARD !!
Some of Social Strife influences :
Nirvana, The Jesus & Mary Chain, Peg Boy, The Beach Boys
Social Strife biography :
Social Strife, project formed late 2013 envisioned by Sean 'The Unicron' Strife, is a four piece Hard Rock/Surf Punk Band with Pop sensibilities, showcasing dynamic songwriting and High energy live performances !
Social Strife's main purpose is to fill the void created by synthetic music in a contrived industry. Refusing the buy in/buy up method of corporate pay to play and be the enigma amongst their peers. Become the new standard by which other bands will measure their success. Bring a grinding halt to the over sold predictable fallacy of formulaic music and awaken the zombified industry with raucous honesty and dangerous truth !
Social Strife is the brainchild of Toronto musician Sean Farro, the lead singer and song writer. The epic Rock punk style of the band continues to wave the flag of frustration with "middle-of-the-road play-it-safe "MainSteam Rock bullshit !" Farro continues, "nobody is saying or doing anything worth listening to !" "here's no danger in rock 'n roll anymore !"
Social Strife is adamant that "there's little reason to turn the Radio on… with a few exceptions, particularly with artists that don't get a lot of airplay, it's all watered down crap !" Social Strife is not afraid to tackle tough social issues in their music, at times, disturbingly insightful, "We're just saying what's on everyone's minds".
Social Strife is well known for their stage antics and high energy live shows. Drawing from their mutual love of big Rock show's and hook-oriented melodies, Social Strife has set out to put the "Strife" back in Rock & Roll ! "Get some Strife in your life !"
People Are Strange And the strange,estranged,disenfranchised,deranged and rearranged scream into the void. "Where are the beat poets, the gonzo journalists and the artistic revolutionary voices not afraid to be. ...DARE TO BE. ..different than the manufactured product of popular culture? Where is the Lizard King of the 21st century? From inside the darkness we hear a voice screaming. The wild wicked wail of "The Unicron" Sean Strife The graffiti profanity spraying out good sense, common sense and nonsense onto the walls most only half see every day. Look closer. ..much closer. ..close enough to blur the chaos into their individual components. Honesty Integrity Loyalty Tenacity. When you back up slowly and refocus on the image. It looks so much different.

Rose Marie of roGue musicZine
Toronto's Social Strife has just released their self titled 5 track EP. Born out of their discouragement with typical radio fare, singer/songwriter Sean Strife formed Social Strife to bring relevant social issues back to music. The album opens with 'You Were Nothing", a classic punk-rock tune with guitar solos that rock, powerful drumming, and a super catchy course with a great Ramones feeling. "Reign", with power chords and the customary guitar solo, is a good hard rock song with great transitions and changes. The reggae influence of "MDMA", merged with the power rock transitions, create a unique sound for this band. The cool melody and tempo changes enhance the angst in the vocals. "Social Strife" is another hard rock-punk number. My favorite track, "Aliens And Freaks", is more melodic than the others allowing Sean Strife's voice to stand out. The song incorporates strings and I swear I heard pizzicato violins! Steady drums, quieter guitar and great rock transitions make this a wonderful song. Social Strife have made good on their vow to bring the Strife back to rock and roll! Lyrics entrenched in socio-political commentary and classic punk melodies combined with power chords and heavy drums, has created what can only be described as Strife punk and roll. The songs are well crafted, the music and lyrics are powerful. A solid debut effort and well worth a listen or two.
Bobby Gottesman
-
I can't believe my ears
(
Social Strife
EP review)
Unlike the punks of the 70's, these guys can actually play, sing and write songs. It's a classic rock sound with all the attitude and swagger of UK punk with its social-political themes and it makes for great rock and roll that's easy on the ear. The riffs have plenty of energy and the catchiness of pop, while the rhythm section keeps it solid and tight, the vocals are clear and honest rather than metal screaming or growling and the whole album flows seamlessly from beginning to end. There are pieces which have that easy looseness of punk such as opener "Denied" that is a lively little rocker with a warm, catchy chorus and melodic solo, "Social Strife" (The song) which has all the strut of rock and roll and the attitude of punk, and "M.D.M.A.", a slower, mellower number with a melodic verse and full rock out chorus. They are stripped-back rock and roll pieces but that doesn't mean they're simple. Songs like "Aliens And Freaks", a slower reflective number with acoustic guitar, keyboards and strings, is warm and melodic and grows as it progresses; and "The River", which is a sophisticated piece of flowing mood and energy as riffs, strings, and acoustic guitars bring new layers of sound. There are energetic rock numbers like "Blind" which hurtles along at full throttle with no care for what gets in its way; and "Reign" which is fast paced, bouncy and catchy; and pieces like "I Don't Care" and "Chasing" that hark back to the classic rock sound of the early 70's. Top notch!
Darren Iliffe of Loud Enough Magazine
(review for CD "With Friends Like These….")

I was fortunate enough to catch Social Strife's end of summer bash last night at Lee's Palace and I was not disappointed. Playing their hard driving brand of socially disenchanted heavy rock, these guys know how to put on a show. From the outset, they took control and never looked back. Their energy was unrelenting and their ability to engage the crowd, as good as any seasoned band. The band was tight. The songs, executed to perfection. The crowd, always bouncing on the floor, wailing with delight at every gesture from Sean Strife. These guys know what their fans want and they know how to deliver the goods. You have to see Social Strife live they rock, they roll and they entertain. Great show and a great time.
Bobby Gottesman - I can't believe my ears
(Live Strife review)
I've done over a hundred of these now so it's getting hard to find clever ways to introduce my articles. It's frustrating really, I enjoy my rants, sometimes relevant, sometimes not so much, but after thinking about it for days, I just can't find one this time. It's unfortunate because Toronto hard rock band Social Strife really do deserve a good introduction to their featured article on my site for their five-track self titled EP which is nothing short of a classic hard rock sound that can stand pretty tall in today's rock music. The EPs opening track,You Were Nothing hits like a ton of bricks with its hard and moderately fast paced punk influenced drum and bass beat. The song is not a punk song, though, as punk songs are generally just power chords and nothing special to listen to from a musical standpoint, and punk songs don't have choruses as great and melodic as this track. The EP immediately surprises listeners with its second track MDMA, which mixes slow and jumpy verses with faster paced choruses. The song is very upbeat, thanks to Sean Strife's singing, which is mid-ranged and very raspy, but the melodies that he sings are very upbeat. The guitar playing is at its finest on this track, with great guitar riffs and a perfectly simple guitar solo. At many moments, the song reminds me of a hard rock song from the early 80s, specifically hair metal bands like Mötley Crüe, before it was all make-up and glitter and pop. The EP gets back to rocking with Reign and the self titled track Social Strife. Reign is pretty much a heavy metal, practically thrash metal track in terms of its verses, with some intense drum work ! Social Strife (the song) is similar to the opening track, with a two-chord main riff and very punk-like rhythm section playing. I'm immediately reminded of Canadian punk legends Teenage Head, especially with the songs guitar solo which is played in a very (Teenage Head guitarist Gordon Lewis fashion. The EP saves the slowest song Aliens & Freaks for last, which is something I dislike when bands do because I always believe listeners should be left with a solid punch to the ears when it comes to hard rock EPs/LPs such as this. It is understood, though, why this was chosen to close the album. It is a very dramatic track, with (likely synthesized) string sections heard and the consistent sound of a acoustic guitar riff heard under the louder instruments. Frankly, this is one well written song and it surprises me every time I listen to it when comparing it to the rest of the EP. As I mentioned already, an EP as good as this deserved a much better introduction than the one I gave, it's just unfortunate that after I just ran dry for this one, because not one of the five tracks on Social Strife's self-titled EP fails to impress me. All five songs are very different from one another, which I'm pleased to say I'm finding more bands are getting better at doing lately. There are moments on this EP, particularly the track MDMA that I don't think many other bands could have pulled off, nor would have even bothered attempting. I'm not certain on the originality of the band, but it is certain that there are not many other artists out there right now who can do what Social Strife have done on this EP.
ALBUM HIGHLIGHT
" You Were Nothing" –­ Though MDMA is my favourite track, I don't believe it captures what the band is all about. The highlight of this EP has to be a heavy track, preferably one of the two tracks that feature some punk influence for two reasons: listeners to get a good idea of the band's sound and to make people want to hear more, and that's what I feel You Were Nothing is capable of doing for the hard-rock lover.
Phil of Rock Review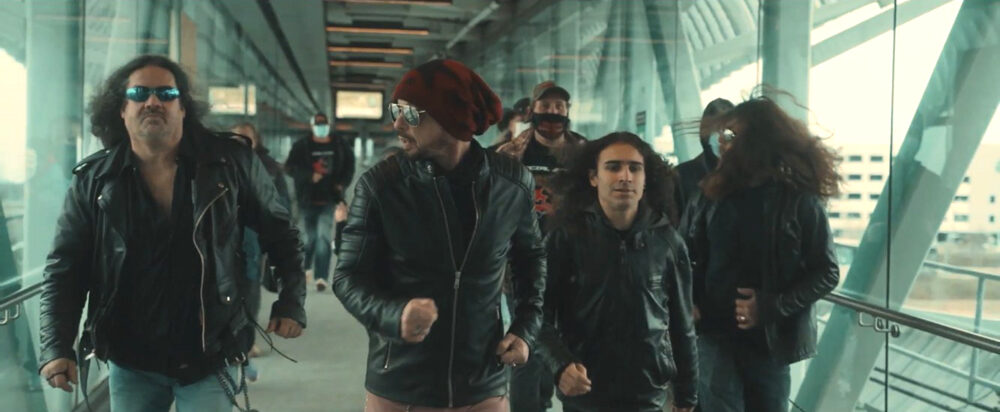 Social Strife

chased by the fuckin' masks

in their last clip

"

Nobody Told You

"
SOCIAL STRIFE

NEWSLETTER
Write your e-mail by using the below form for receiving Social Strife NewsLetter.
IMPORTANT
: Don't forget to write your e-mail address for receiving the NewsLetter.
THANK YOU ALL.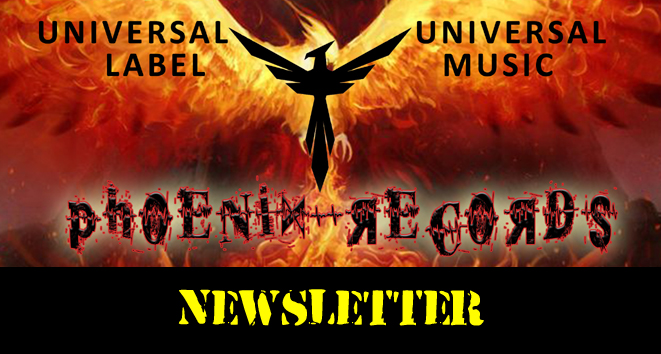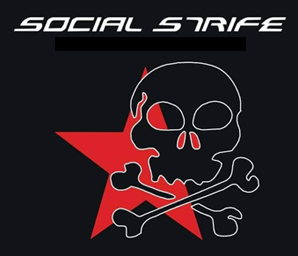 THANKS for BEING THERE and USE the below FORM
to give Your Feelings
and to ask Questions to

Social Strife
!